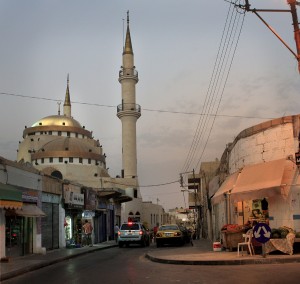 Madaba was my last stop on my trip to Jordan. Although I didn't see much of it (because I arrived late in the afternoon and had to leave the next morning) it seemed like a very nice town. What stroke me is its chilled out and relaxing atmosphere. People are sitting on roofs and terraces smoking and drinking, women are strolling through the streets for shopping and numerous people are just sitting on the street chatting with their neighbors.
Madaba is a town where Christians and Muslims live peacefully side by side. In the one evening that I spent in Madaba I saw a muslim and a christian wedding taking place on the same street. It was very interesting to stop, watch and compare. The muslim women of Madaba seemed quite conservative compared to other areas of Jordan. They seemed to strictly follow the dress code and completely covered their hair and sometimes even their face. Nevertheless I was very surprised by how open they were: many of them were looking at me and smiling at me from far away, but several also approached me and started to chit-chat with me.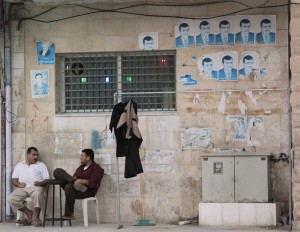 I truly enjoyed my trip to Jordan. Among the highlights of my trip, I will remember the breathtaking landscapes, the magic feeling of Petra and most of all the friendliness and kindness of its people. Jordan is starting to be really badly influenced by tourism. Many other tourists had a bad experience of having to struggle with all the hassle and the corrupted people that deal with tourists. But once you go beyond these people and start talking and interacting with the regular population of Jordan, I only found kindness, helpfulness, tolerance and such a strong and rare sense of hospitality.
CLICK HERE TO VIEW MORE IMAGES